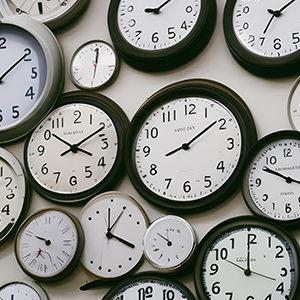 Photo by Mehmet Turgut Kirkgoz/pexels.com
Matthew Walker, the renowned sleep scientist, once remarked that humans are the only creatures on this planet who willingly sacrifice precious sleep without any apparent gain. We're guilty of staying up late binge-watching TV shows, waking up at the crack of dawn for work or school, and even toying with our circadian rhythms twice a year during daylight saving time changes. But did you know that living on the wrong side of a time zone's boundary can mess with your health and your wallet?
A study published in the Journal of Health Economics by Researchers Osea Giuntella and Fabrizio Mazzonna delved into the impact of time zones on our lives, particularly focusing on sunset times. As you move from east to west, sunset times get later, and this shift has profound effects on our sleep patterns.
So, folks on the eastern side of a time zone, where the sun sets earlier, tend to hit the hay earlier too. It's like a natural bedtime alarm. Giuntella and Mazzonna wanted to explore how these bedtime changes affect our physical and economic well-being.
Their findings are intriguing, to say the least. People on the late sunset side of a time zone boundary are more likely to be sleep-deprived, getting less than 6 hours of sleep, and they're less likely to enjoy a full 8 hours of rest. And guess what? The effects are more pronounced for early birds and parents with school-age kids.
Losing just 19 minutes of sleep a day might not seem like much, but over a year, it adds up to a whopping 115 hours of lost sleep! They found higher rates of health problems in areas where the sun sets later. Obesity, diabetes, heart attacks, and even slightly elevated breast cancer rates were all more prevalent.
The time zone you call home can impact your sleep, your health, and even your paycheck. Perhaps it's time for society to rethink its schedules to better align with our biological rhythms and ensure we all get the sleep we need for a healthier and more productive life. Until then, remember to catch those extra Zzz's whenever you can!