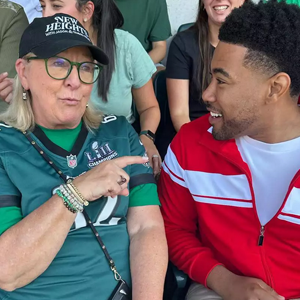 Photo: Jason Kelce/Instagram
Donna Kelce did it!
She was able to watch both her sons, Travis and Jason, play at their respective NFL games on Sunday. The 96 mile trip from Philadelphia's Lincoln Financial Field to MetLife Stadium in the Meadowlands wasn't quite the longest "Mama Kelce" has traveled in one day to attend both her sons' same day games.
Earlier in the day, Jason Kelce was winning in overtime over the Washington Commanders while little bro Travis was "warming up" for his Sunday Night Football game in New Jersey. We use the term loosely since it was reported that Travis was "warming up" at Taylor Swift's New York pad until 11 am.
At the Philly game, Donna was snapped sitting next to "Jake..from State Farm" (real life actor Kevin Miles) who was wearing his State Farm jacket. Donna was wearing Jason's Eagles jersey.  Later Sunday night, Donna was hugging Taylor Swift in a sky box at MetLife, making a quick change into Travis' K.C. Jersey for the event.
If you think yesterday was an "all-in" day for Mama Kelce, she'd tell you to "hold her beer."  December 2021, Donna traveled from Tampa Bay where Jason and the Eagles were defeated by Tom Brady and the Bucs to Kansas City where Travis and the Chiefs played The Pittsburgh Steelers.  She boarded planes, trains, monorails and even a rickshaw to make the 1300 mile trek.
All in a day's work for the only Mom in NFL history to witness both sons play against each other in a Super Bowl, where she eagerly showed off her split jersey.
Donna is also the star of a TV commercial featuring both sons, in which Donna sides with Jason, stating it's his turn (The Kansas City Chiefs defeated Jason's Philadelphia Eagles in Super Bowl LVII).
And you thought getting both kids to soccer practice every week was a challenge.