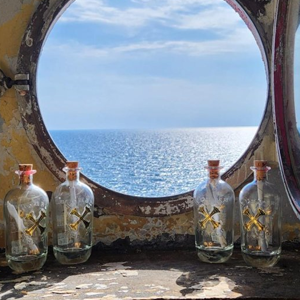 It's 1940, a stormy Armistice Day in the Great Lakes. In the midst of howling winds and crashing waves, George Keller, the fearless lightkeeper of White Shoal, and his trusty partner had a wild idea. They decided to toss a message in a bottle into the tempestuous waters, just in case they didn't make it through the night.
That very message, once adrift in the storm, was plucked from the waters by an unsuspecting fisherman near Gros Cap, Mich. It's like something out of a Hollywood movie, right?
George Keller and his comrade did survive the blizzard. And their bottle message became a symbol of resilience and connection. It's a testament to the incredible stories hidden within the folds of history.
To celebrate the 113th anniversary of the White Shoal Light, the White Shoal Light Historical Preservation Society has launched a "message in a bottle contest."  And you have a chance to create your own piece of history.
Four bottles were tossed into the Mackinac Straits on Labor Day, each containing a message from descendants of George Keller. They're offering free stays at the iconic lighthouse for the lucky finders, whether you're a lone adventurer or a group of up to five.
Keep your eyes peeled for those bottles, because not only will you uncover a remarkable piece of history, but you might also score yourself a free stay at this historic lighthouse.