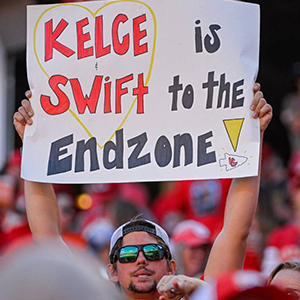 Photo: Tammy Ljungblad tljungblad@kcstar.com
Breaking Celebrity Gossip: Taylor Swift Spotted Cheering for Travis Kelce with his Mom!
Hold onto your seats, because the rumor mill is working overtime! Taylor Swift has set tongues wagging as she made a somewhat surprise appearance at Sunday's Kansas City Chiefs game, cheering on none other than tight end Travis Kelce.
Speculation about Taylor's love life went into overdrive when she accepted Kelce's invitation to be his lucky charm at the showdown against the Chicago Bears. This surprising move follows her much-publicized split from her six-year beau, Joe Alwyn, earlier this year in April.
But here's where it gets interesting. In July, Travis Kelce himself spilled the beans on his brother Jason Kelce's podcast, confessing that he attempted to gift Taylor Swift a friendship bracelet with his phone number at her Eras Tour concert when it came  through Kansas City. But apparently he wasn't able to give it to her personally that night.
In an interview on September 20, Jason Kelce, Travis's brother, had this to say: "I think they're doing great, and I think it's all 100% true, and I hope this thing goes a mile — no, I'm joking, I don't know what's happening."
Fast forward to Sunday, and Swift was spotted rocking Kelce's team colors and seated next to none other than Travis's mom, Donna Kelce, in a spectators' suite. The cameras even caught her passionately cheering when Kelce scored a touchdown.
The pair were later seen leaving the stadium together following the game, which the Chiefs won 41-10.
Taylor Swift: Meeting the Parents, a Familiar Tale
For Taylor Swift, this isn't her first rodeo when it comes to getting acquainted with a potential beau's family.
Back in 2016, Swift made headlines when she was photographed in Suffolk alongside her then-boyfriend, actor Tom Hiddleston, and his mother, Diane Hiddleston. This meeting, however, turned out to be just a brief chapter in their whirlwind romance, which concluded after a mere three months.
So, will this meeting with Travis Kelce's mom mark the start of something more enduring? Only time will tell.