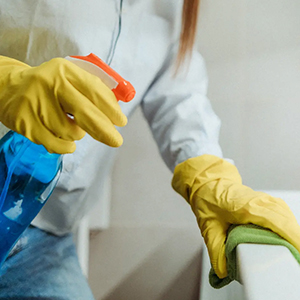 Take a look around your house, chances are you won't like what you see.
According to a recent survey, the average person only considers their home "completely clean" for a whopping 11 days a year. Less than 2 weeks out of 52.
It takes around five days to finally muster up the motivation to start cleaning and on average, people spend six whole days a year scrubbing, dusting, and sanitizing. 
The room that gets the scrubbing, the kitchen, with 63% of respondents devoting an entire day to cleaning it.
With regard to the cleaning checklist,  rugs and carpets top the list at 68%, followed by vacuuming and mopping floors (63%), and laundry (57%).
When hosting guests, people go all out to stop the spread of germs. Hand sanitizer, disinfectant sprays, and wipes dot the house for the comfort and safety of all.
And while much of the house gets the white glove treatment, the things that are most likely to be overlooked include:  thoroughly cleaning appliances, wiping down countertops, and dusting shelves.